LocalNicheMarketing.com - Dollar for dollar it's the best internet advertising money you'll ever invest.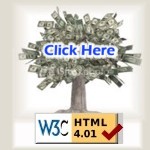 Clean Web Sites ~ So one day you woke up frustrated from paying thousands of dollars each month for phone book advertising that never returns any justifiable results. Each year you watch the phone book shrink smaller and know the future of your company depends on you being online. So a while back you did your research and paid an "expert" to build you the greatest web site on the internet; and two years later, still nothing is happening. Sound familiar? Do you wonder why you're dead in the water and not riding a wave? The first thing you should check to see is if your web site is error free and clean. We know, all your coders/designers/programmers have told you that getting web pages perfectly clean is impossible. But click the picture to the right and see how our work holds up to industry standards. Imagine for a moment you're a search engine, and you visit a web page filled with coding errors, pictures that don't load properly, and broken links, how would you rank that web site for functionality? When you hire us as your new local niche marketing employee, we will be at our desk working every day. Are you tired of paying for holidays, vacation, workman's comp, personal emergencies and sick leave? The fact is, you have to hire someone who CAN do it. Trying to figure it out on your own will get you second place, and in this economy, that could mean out of business.
Local Niche Marketing ~ Are you still budgeting for print ads, mailers and the phone book for your advertising? If you're reading this page, chances are you have heard about local niche marketing and are considering using our service for promoting your message, product or service. It is difficult for most online companies to find and convert their new viewers into contacts, customers or members. We use social promotion sites, dozens of venues to publish videos and web blogs for keeping your site filled with fresh content; it all adds up. The problem is, Local Niche Marketing takes a lot of work, concentration and dedication. Many small and medium sized businesses quickly find that this is a full time job, good luck getting your department set up, paying for training, and then holding onto your "cooperative" talent. Hire us and we'll work every day to get your message, product or service in front of your ideal niche audience, in your desired regions!